M12 invests in the Future of Stream Processing with Bytewax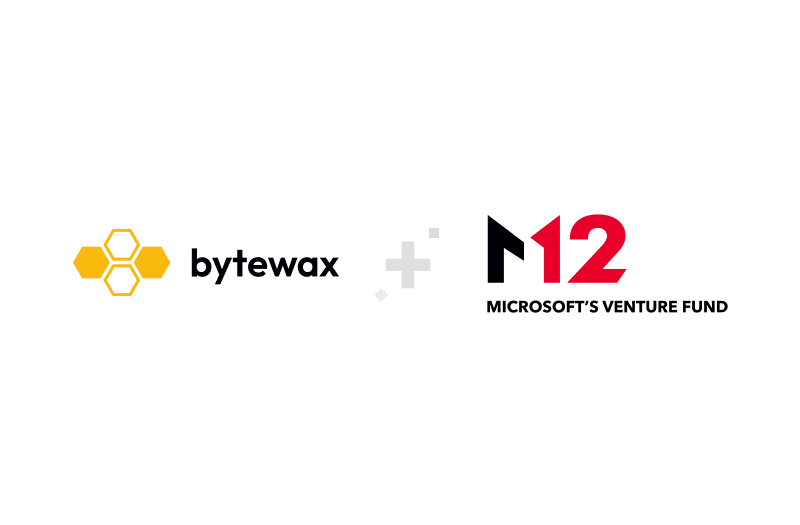 At Bytewax, we're passionate about the power of real-time data. With AI and automation on the rise, accessing data instantly isn't just a cool perk—it's becoming a necessity. Our mission is to build software that will strip away the complexities of streaming and make it accessible for every developer to build real-time data applications.
We started with the Rust powered, open source Python stream processor, Bytewax, which is now a year and a half old, debuting in February 2022. Since starting the project we have grown and matured the Bytewax open source offering to include persistent state, different windowing configurations, and new operators for increased performance and scalability. We have also focused on bettering the developer experience from integration to deployment with our deployment tool, waxctl, the ability to rescale without losing data stored in state, and the ability to connect to various input and output sources as well as build your own.
We are excited to announce a new partner along our journey in M12/GitHub with their investment in Bytewax to support further development on the open source as well as the development of the Bytewax Platform, which will help businesses scale out their Bytewax usage starting with features like disaster recovery, collaboration and observability tools and a management layer.
How Bytewax Supports AI and Real-Time Applications
The world has moved into a new wave of computing where businesses power their operations and consumer interactions with AI. Sophisticated AI models require a real-time understanding of the world to make accurate decisions. What is often referred to as real-time ML is when a system reacts in real-time with a decision powered by an ML model to the inputs it receives. Stream processing and more importantly stream processing with a Python interface is pivotal for Real-time ML in order to transform data into features for models.
You can read more about real-time ML with Bytewax in our blog post here.
There are many other use cases currently being powered by Bytewax from monitoring and reacting to IoT sensors for vehicle fleets or across the energy grid, to monitoring market data or analyzing infrastructure.
New Investment: A Vote of Confidence
Microsoft is known for its investments in Python and AI. Creating partnerships with pivotal developers and teams that are moving the industry forward. Their investment in Bytewax is a vote of confidence towards the Bytewax vision and mission and the importance of stream processing in the next wave of computing.
"We believe that Zander and the Bytewax team are building a cutting edge tool that simplifies event and stream processing, and appreciate their thoughtful technical approach leveraging a Python framework to build highly scalable streaming dataflows" said Priyanka Mitra, Partner at M12 and co-founder of the M12 GitHub Fund. "We are impressed with their engagement of the open-source community and are committed to supporting Bytewax in accomplishing their mission, especially as they explore cutting edge AI and ML use cases" she added.
Future Bytewax
The Microsoft investment will help Bytewax establish a thriving community around the open source project and build out features for the paid platform to support adoption of the technology. We have been working to solve exceptionally hard problems like rescaling dataflows and cloud backup for disaster recovery as well as improving performance. We are excited to continue to bring features like these to Bytewax with a simple user interface and low complexity to support users across all stages of their journey.
Connect with us
We would love to hear from our users and any Python and streaming enthusiasts on how we can increase our support for workloads and Python development patterns. Please feel free to reach out via our slack community or the GitHub repo. We would also like to take this opportunity to thank our users, investors, and community for their continued support! If you like what we are building, please ⭐ the repo 😀.